Catering
November 4, 2014 by davidm
Servicing the triad area for over 10 years we can cater your next wedding, rehearsal dinner, shower, corporate or holiday party. We offer breakfast, lunch or supper options and both full service catering or drop of service for your next event and promise the same quality food you've come to love at our restaurant locations. We know it can be stressful when planning a breakfast, luncheon or dinner so call us and we'll make sure you're well taken care of by our trained staff.
We provide delivery/drop off service for a flat fee of $30 for orders over $150 for anywhere in the triad area, for more details about our full service catering please call.
Contact us for more information
High Point: 336-869-5422
Greensboro: 336-292-3557
Ask to speak with any manager about our catering options.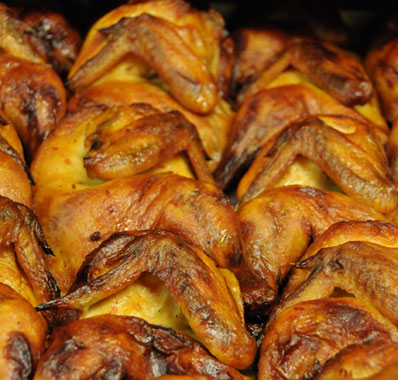 BBQ, Chicken, & Ribs
Whole Shoulder
Chopped BBQ
Sliced BBQ
1/2 Chicken
1/4 White Chicken
1/4 Dark Chicken
Ribs
Sides
Dip
Hot Sauce
BBQ Slaw
Cole Slaw
Corn
Green Beans
Sweet Potatos
Baked Beans
Mashed Potatos
Mac & Cheese
Potato Salad
Chili
Gravy
Grits
Fries
Hushpuppies
Buns
Tea
Desserts
Peach Cobbler
Strawberry Cobbler
Chocolate Cake High Point store only
Coconut Cake High Point store only
German Chocolate Cake High Point store only
Strawberry Cake High Point store only
Yellow Cake High Point store only
Full cakes have at least 12 slices per cake
BBQ
4 per lb.
Hushpuppies/Fries
4 per lb.
Chili
15 per qt.
(Hot dogs & Hamburgers)
Chili
15 per qt.
Cobblers
20 per full pan
Tea
10 per qal.
Hot Sauce
20 per qt.
Plates, cups, forks, & napkins
$0.50